Sinking fishing boat rescued off Redcar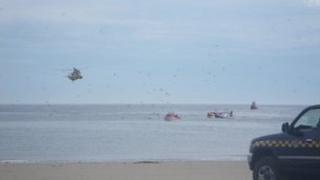 Three fishermen were towed to safety when their boat began taking on water off the North East coast.
Lifeboat crews from Redcar and Hartlepool were alerted by the coastguard shortly after 09:00 BST when the boat began sinking off Redcar.
Each base sent two boats and an RAF Sea King helicopter was also diverted.
Another fishing boat attached a tow line and a salvage pump was transferred from a lifeboat on to the sinking boat to keep the water level steady.
The fishing boat was towed close to the shore at Redcar and then the lifeboats manoeuvred alongside it and pushed it on to the beach.
Dave Cocks, from Redcar RNLI, said: "Fortunately by the time the first Redcar lifeboat arrived a nearby fishing boat had managed to attach a tow line to the sinking boat and was making slow progress towards the beach.
"The crew of the sinking boat had donned lifejackets and were using their bilge pump to try and get rid of the water, but there was too much water coming in.
"Our lifeboat crew transferred over a salvage pump, but even using that was only just keeping the water level steady."
He said it was a good combined effort by the crew of the fishing boat which came to help and the lifeboats.
He added that the men on the sinking boat had done the right thing by raising the alarm using a VHF marine radio and putting their lifejackets on.