Police and crime commissioner elections: Cleveland Police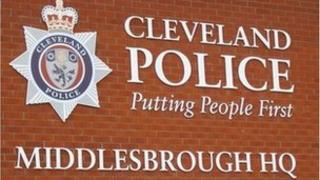 On 15 November, 37 police and crime commissioners will be elected in England along with four in Wales.
The PCCs, as they will be known, will be tasked with scrutinising their force and holding it to account. They will also be able to hire and dismiss the chief constable and set the force's budget.
The commissioners will be paid and are supposed to empower local people into having a say on how crime is tackled in their area.
Nominations for candidates in Cleveland have now officially closed.
BBC News has taken a look at each of the police forces ahead of the elections.
Cleveland Police
The force covers approximately 230 sqm including Hartlepool, Middlesbrough, Stockton, Redcar and Cleveland, which includes a population of about 563,500.
Its priorities include keeping the community safe, reducing crime and anti-social behaviour and securing financial stability.
On 1 October 2010, it outsourced its procurement function along with information technology, call handling, criminal justice and other business support functions to its private sector partner Steria.
The force works with public and private sector organisations which include a firearms tactical training centre with Durham Police, custody services with Reliance STM, control room and business support services with Steria UK, joint roads policing and firearms unit with Durham Police, North East serious and organised crime unit with Durham and Northumbria Police National Air Support Unit.
Currently it is led by temporary Chief Constable Jacqui Cheer.
The force's base at Ladgate Lane in Middlesbrough has been described as "not fit for purpose", but a scheme for a new headquarters was deferred in September 2008 due to the economic climate.
In November 2010 Cleveland Police said there were sufficient signs the climate had improved enough to consider moving forward, but it was delayed again in June.
The force works closely with neighbouring Durham Police and Northumbria Police.
Funding
The force needs to make a cumulative saving of £14.2m by March 2015.
It is receiving about a £4.5m reduction in funding from the government, but an increase of income from council tax is aimed at offsetting some of the difference.
Cleveland Police is also looking to reduce the number of its police officers and staff due to the funding cuts.
For 2012-13, the long term financial plan accounts for 1,504 police officers, 166 PCSOs and 255 police staff.
The plan accounts for the same number of PCSOs and police staff in 2013-14, but 1,457 police officers, a reduction of 47 officers.
For 2014-15, it accounts for the loss of a further 43 police officers, bringing the total down to 1,414, a reduction of four police staff to 251 and the same number of PCSOs.
Between 2012 and 2015, the force's total revenue plan sees an overall reduction from £136.5m to £134.2m.
Crime and performance
Cleveland Police's total crime statistics year-on-year are down from 72,003 in 2001/2 to 42,517 in 2010/11, the force's lowest on record.
However, crime offences per 1,000 of the population (about 563,500) was 77.26 for 2011/2012, which is the fifth highest in England and Wales.
The proportion of all crimes solved between March 2011 to March 2012 was 37.69% which is the fourth highest in England and Wales.
And the proportion of all non-victim-based crimes solved between March 2011 to March 2012 is 97.08% which is the highest in England and Wales.