Rugby club in Darlington FC arena bid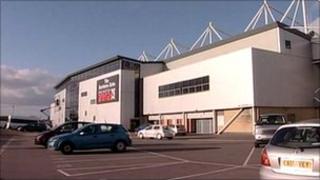 Discussions are under way to sell Darlington Arena to a rugby club in the County Durham town.
Owners Philip Scott and Graeme Sizer say they have received an "acceptable" offer for the ground from Darlington Mowden Park.
The arena was put on sale by the football club receivers in April 2011, in an attempt to stop the club going into administration.
Darlington Football Club went into administration in January 2012.
The rugby club had been looking to buy land at West Park with plans to build a new ground and club house, but negotiations are said to have stalled, forcing it to seek an alternative.
The club's current playing venue on Yiewsley Road has a seating capacity of 250, 1% of the total capacity at the Arena - although safety certificates limited the potential attendance to 10,000 during the Quakers' tenancy.
Darlington FC has an existing lease to play at the Arena until 2024, but a new owner would have the opportunity to buy its way out of that contract.
The 25,000-seater arena has been the home for Darlington FC for less than eight years.
Darlington Labour MP Jenny Chapman said it was "serendipitous" that the rugby club need a new ground just as the Arena has become empty.
She said: "What Mowden need is lots of pitches because they have youth teams and women's teams and they want to do a lot more. They also have good links to other regional clubs.
"For me anything that keeps sport on that site has to be a good thing."