Stockton £20m town centre revamp enters new phase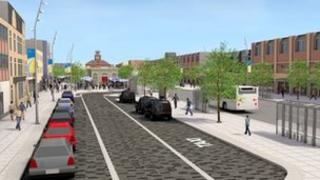 A new phase of a multimillion-pound scheme to transform Stockton high street has begun.
Stockton Council is currently revamping the town centre to attract more shoppers and businesses as part of a £38m regeneration project.
Now, a new road layout, increased parking and a new short-stay car park is being built to make it easier for people travelling into the town.
Work is already under way to improve access from the south of the town.
'Future success'
The council says although the work is taking place during trading hours, all of the shops, businesses and market stalls will still be accessible.
Councillor Mike Smith said: "I'm confident the newly designed high street will make a real difference to the future success of the town centre.
"It will be easier to get into the town and the whole shopping and visitor experience will be transformed.
"These significant improvements will make it easier for people to rediscover what Stockton town centre can offer while enjoying their time in the town as well."
The bus stops and taxi rank will also be repositioned which the council says will speed up journey times and make it easier for people to get into the town.
Anyone visiting the town by car after 15:00 will be able to park for free in any of the council-run car parks from 24 September until Christmas.
This first phase of the high street improvements is due to be completed by summer 2013.