Brave under-fire soldier Serjeant Tony Bramham honoured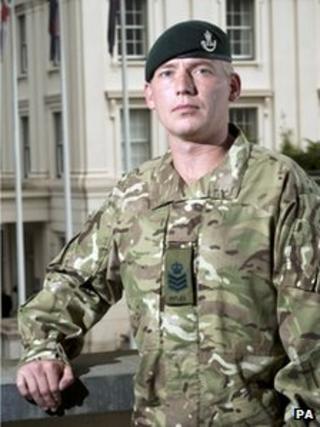 A County Durham soldier who led his men in a charge on a Taliban position while under fire has been honoured for his bravery.
Platoon Serjeant Tony Bramham, from Newton Aycliffe, rushed towards insurgents in an area known as the Devil's Doorstep, in Afghanistan.
His actions meant enemy firing points could be identified and targeted.
The 32-year-old of 5th Battalion The Rifles (5 Rifles) was awarded with a Mention in Despatches for his courage.
The action came two weeks after Sjt Bramham arrived at Babaji's Check Point Sorab on his first tour of Afghanistan when two small sub-units of his patrol were attacked as they made their way towards the enemy.
It was an area where three soldiers had been killed in the previous three months in 50 improvised explosive device (IED) and grenade attacks.
When they were about 100m (328ft) away, gunfire started but they were unable to return fire because they could not see the insurgents.
'Turning point'
Sjt Bramham led his men forward, with only partial cover from a smoke grenade, so they became more visible to the second patrol who could identify and target enemy firing points.
The father-of one said: "On this occasion, we knew the enemy was setting something up as our eye in the sky told us they were coming with a full-on advance.
"But we didn't know where they were exactly when the rounds started coming in. I had to weigh up the danger of staying in position with that of IEDs.
"That is the worst part as a commander, hoping your decision doesn't lead to casualties. It is a sickening feeling.
"I decided the threat from the small arms fire was greater and that we needed to seize the initiative.
"It proved to be the right decision thankfully and we drove them out. It was a real turning point.
"After this, we gained local support and joint patrols with the locals saw the area become much safer and the full platoon returned home."