North Tees NHS staff threaten strike action over sick pay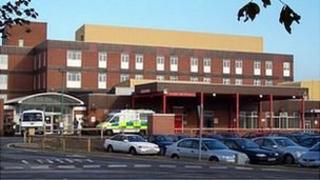 Health workers are threatening strike action after more than 5,000 staff were told to agree to a new sick pay deal or face possible redundancy.
North Tees and Hartlepool Foundation Trust claims it could save £500,000 a year by cutting sick payments to staff who work unsociable hours.
The Royal College of Nursing (RCN) said it was "furious" at staff being "forced" into new terms and conditions.
The trust has pledged there will be "no staff losses".
Currently staff who work unsocial hours are paid an enhanced rate when they are off sick.
The trust want to change the terms and conditions of sickness enhancements and pay staff at the University North Tees Hospital in Stockton and the University Hospital of Hartlepool the same sickness rate to "make savings".
Clare Curran, from the trust, said by changing sick pay would save the trust the equivalent of 20 nurses jobs.
'Confrontational approach'
Staff at both hospitals were issued with HR1 forms - a legal requirement when employers are considering dismissing staff within 90 days.
The proposals effectively mean that if the 5,452 staff do not agree to the new terms and conditions by March 2013, they could all be dismissed, and then offered re-employment on the new terms and conditions.
RCN regional director Glenn Turp criticised the "confrontational approach" and claimed the trust was undermining ongoing national negotiations on the issue.
He said: "To say that our members are furious about this, is a massive understatement. The trust are bullying and intimidating the workforce, to get them to sign new, less favourable contracts.
"Already some of our members have already expressed how unhappy they are and how bullied they feel and are asking what kind of action they can take and that may well include strike action."
Ms Curran said: "We are not bullying staff.
"We should be paying them for what they do, not what they don't do and that's really important to us."