James Allen 'brutally attacked and ransacked' pair during robbery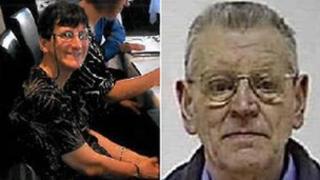 A man accused of two murders brutally attacked his victims in their homes before robbing them, a court has heard.
James Allen, 36, denies killing Colin Dunford, 81, of Middlesbrough, and Julie Davison, 50, of Whitby, in April.
The court was told the motivation for both killings was robbery and the person responsible "intended nothing less than their deaths".
The trial at Newcastle Crown Court is expected to last three weeks.
Mr Dunford and Ms Davison were both found with head injuries at their homes days apart in April.
Robert Smith QC, prosecuting, told jurors that in each case after Mr Allen had murdered his victim, he left the home and locked the door behind him.
'Physically vulnerable'
The court also heard how Mr Allen had 96p in his bank account at the time and was in debt to money lenders.
After ransacking Mr Dunford's home, his bank card and mobile phone were stolen. Mr Allen then tried to withdraw £200 from Mr Dunford's account, the court heard.
The jury was played CCTV that showed the accused walking to the cash point.
Three days later Julie Davison, who lived alone, was also beaten to death in her home 30 miles away in Whitby, North Yorkshire.
She had been stamped on, kicked and stabbed 31 times. The jury was told Mr Allen cycled there using a stolen bicycle.
A laptop, cash and jewellery were taken from her house. The court was told that a cigarette butt containing the defendant's DNA was found close to her home.
Ms Davison was described in court as "physically vulnerable" as she had a degenerative condition and epilepsy.