Ex-Cleveland Police chief Sean Price faces further misconduct claims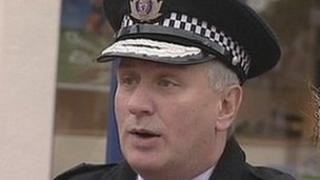 Former Cleveland Police chief constable Sean Price, who was sacked for gross misconduct, faces further allegations.
In a statement Cleveland Police Authority released more details about a separate investigation into Mr Price.
They include allegations relating to irregular use of a force credit card, trips abroad and allegedly obstructing a criminal investigation.
Mr Price denies the allegations and said he provided a "full explanation in relation to each of them".
He was sacked on 4 October after a gross misconduct hearing during which he was found to have lied to the Independent Police Complaints Commission (IPCC) about his involvement in a recruitment matter and to have instructed a member of staff to lie.
In August, the IPCC reported to the police authority on 18 other matters it had investigated.
Eleven allegations
Seven were deferred pending the outcome of the wider criminal investigation by Operation Sacristy, a corruption investigation relating to individuals with past and present associations with Cleveland Police Authority.
Cleveland Police Authority decided that 11 matters should be referred to a misconduct hearing, but it said Mr Price would not face a hearing as he is no longer a serving police officer.
The allegations are:
He made trips abroad, the necessity and expenditure of which have been questioned
He did not follow the force's corporate credit card policy, often failed to provide receipts, bought alcohol with it and spent money on items which were allegedly "not appropriate from the public purse"
In 2012 he obstructed a criminal investigation by refusing to provide access to information
In July 2009 he failed to declare a personal interest when he gave a reference for a post to an officer he was in a relationship with
In 2009 he did not report changes in his personal circumstances in accordance with force requirements
In October 2010 he provided false information to the media and public in relation to his personal circumstances
He failed to follow policy when he was involved in a collision while driving his force-owned vehicle in March 2009, by allegedly not reporting the incident or ensuring it was investigated.
The police authority stressed the allegations had been put to Mr Price, who has previously denied any wrongdoing in respect of all of them.
'Deny wrongdoing'
Mr Price said: "Had there been the opportunity for these matters to be properly examined by way of a hearing I would have sought to clear my name in relation to every allegation.
"I would like to stress once more that I deny any wrongdoing in the matters which led to my dismissal last month and am considering the legal options available to me."
Cleveland Police Authority chair Stuart Drummond said: "Following the dismissal of Sean Price, I made a commitment that the authority would release as much information as is legally possible about other allegations that Mr Price faced.
"The public of Cleveland has a right to know what was being investigated and the complexity around it.
"Cleveland Police Authority is accountable to members of the public and it is absolutely essential that we demonstrate openness and transparency in this matter."
Mr Price remains on bail as part of Operation Sacristy.
He was arrested alongside Deputy Chief Constable Derek Bonnard, who has since been released from bail but remains suspended from duty.
Both officers have denied any wrongdoing and have made legal claims for wrongful arrest.