Stockton high street could get moving artwork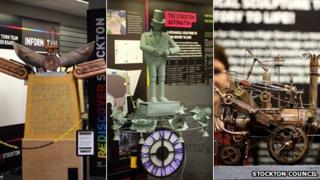 Stockton high street could get a new moving art installation celebrating its heritage by the end of 2013.
Stockton Council is considering installing a mechanical artwork, called an automaton, to entertain and attract visitors to the town.
People can vote on the three designs, exhibited at the Rediscover Stockton shop, until the end of December.
The three choices are The Stockton Story book, The Walker Clock and The Stockton Flyer.
The designs are inspired by the achievements of George Stephenson and John Walker, and the mechanics and engineering of the shipyards and railways.
Each idea is made up of a plinth, which would spring into life at a set time, once or twice a day.
After the vote, the council will then develop a programme to identify all costs, suitable locations, external funding as well as help and support from local engineering and manufacturing companies.