Windscreens smashed by thrown 'missiles' in Normanby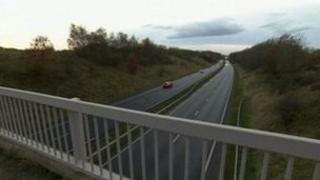 A four-year-old girl was showered with broken glass when a car windscreen was smashed by a "missile" thrown from a bridge on Teesside.
Police said it was only a matter of luck that no-one was seriously injured during the incident at Normanby.
The girl was taken for medical checks and the female driver of another car had to be treated for minor injuries.
Both cars were hit by what were thought to be bricks thrown from a footbridge near Ormesby Grange Farm on Saturday.
A Cleveland Police spokesman said: "Officers received reports at around 17:00 GMT yesterday that missiles had been thrown off the footbridge.
"I would like to send a strong message to those responsible that we will not tolerate these despicable and highly dangerous acts. We will do everything possible to bring you to justice.
"It has been a frightening ordeal for the victims involved. A small child was covered in glass and it is by luck that nothing more serious happened."