Sir Ranulph Fiennes takes mascot on The Coldest Journey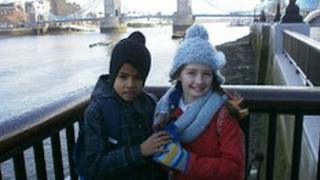 Children from a County Durham school have provided the mascot for an extreme polar expedition led by Sir Ranulph Fiennes.
The explorer will attempt to cross the Antarctic in temperatures low as -70C.
Sir Ranulph's trip, called The Coldest Journey, started on 6 December when an ice breaker set off from the River Thames.
Pupils from St Mary's RC School in Newton Aycliffe were there to hand over their mascot - a small knitted mouse.
It was packed up along with 140 tonnes of supplies for the 2,000-mile trek.
The expedition is aiming to raise funds for Seeing is Believing, an international charity tackling blindness.
'Cold and scary'
Eight-year-olds Mia Brewster and Nicholas Salmon, both from Newton Aycliffe, waved Sir Ranulph and his crew off.
Mia said: "We went on the ship and met the captain and some of the other helpers.
"We spoke to Sir Ranulph Fiennes and he said thank you for giving him the mascot. It will be really cold and scary over there."
Mia and Nicholas handed over letters from other children at the school.
"He thought it was really brilliant," Nicholas said.
"We're going to follow the trip by email and photos."
Headteacher Barbara Reilly-O'Donnell accompanied the pupils to see the ship SS Aghulas before it left London.
The mascot idea came about when Sir Ranulph spoke at a council conference.
Teachers then worked together on material for an schools website to support the trek.
Pupils at St Mary's learned about the journey after being told about a polar expedition 100 years ago when team took a stuffed bear as a mascot.
A new mascot was then designed and knitted by a grandparent involved with the school
Mrs Reilly-O'Donnell said: "We got in touch with the crew to see if they wanted to take it with them.
"They replied and said they wanted to have the mouse as their official mascot. We are absolutely delighted."