Rachel Wilson murder: Almost 200 sex workers questioned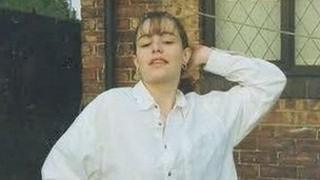 It has proved to be one of the most baffling murders Cleveland Police has ever investigated.
Rachel Wilson disappeared from her home in Grove Hill, Middlesbrough, in May 2002.
But it wasn't until 27 June 2012 that the remains of the 19-year-old sex worker were found on farmland in nearby Coulby Newham.
Six months on and a team of 25 officers have interviewed more than 170 other sex workers and are re-examining about 4,000 interview and expert statements as well as pieces of evidence from the original missing persons inquiry in an effort to pinpoint a suspect.
But the lack of forensic evidence and the likelihood Miss Wilson was not killed where her body was found, have proved the biggest problems for police.
Temporary Det Supt Peter McPhillips, who heads the Cleveland force's murder investigation team, said: "There are two major issues for us. We haven't got a cause of death and don't have a murder scene. We've got the site where Rachel was found, but that does not mean she died there.
"Neither has there been any forensic recovery to assist us, so it has been very difficult to speculate how she died."
An inquest in September recorded an open verdict and a post-mortem examination concluded there had been no "blunt trauma" to Rachel's head or evidence on the bones to explain her death. However, strangulation, asphyxiation or stabbing were not ruled out.
A 57-year-old man from Sunderland was arrested in 2003 in connection with Miss Wilson's disappearance, but was released without charge. Links to other sex workers who went missing from the Middlesbrough area have also been ruled out.
Miss Wilson's family have been kept up-to-date with the investigation, but Mr McPhillips admits it is likely to be a lengthy and complex inquiry.
"We have identified about 260 past and present sex workers who we need to talk to and are about two-thirds of the way through that list", he added. "We are asking them specifically about clients from outside the Middlesbrough area.
"Some of them have already taken us to the general area around Newham Hall Farm, where Rachel's remains were found, and have told us they saw clients there. This remains one of the major lines of inquiry for us.
"But quite often these workers don't remember names or even use names, which adds to the difficulties we have.
"We have also called on the National Policing Improvement Agency and the experts from the National Missing Persons database who have been here with us and are helping assess potential suspects that have cropped up during the course of the investigation.
"Ten years ago Middlesbrough was seen as a place where people could come in and there would be sex workers working. So we had a wide area where people would come from, right across the north spanning from Northumberland down to West Yorkshire.
"But despite all this I still remain positive. The discovery of the body has given us some unique lines of inquiry, particularly at the farm. It wasn't a location that we expected to find Rachel.
"Once we have spoken to all the sex workers that we've managed to trace I feel confident we will be able to get to a conclusion.
"We plan to review all the evidence we have in January and make a decision then how to proceed."
Miss Wilson's family have renewed appeals for potential witnesses to come forward.
Her mother Tina acknowledged Miss Wilson "had her problems", but said that for the majority of her life she had been a "loving and caring girl" who is greatly missed.