Middlesbrough students revamp community centre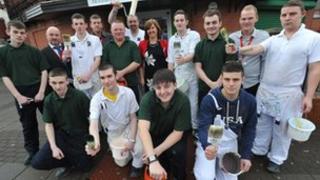 A group of students have given up their free time to give a community centre in Middlesbrough a new lease of life.
Middlesbrough College students, The Hope Foundation charity and tradesmen teamed up to revamp Brambles Farm Community Centre on Marshall Avenue.
The centre has been given a new ceiling in the main hall, learning areas, storage space and improved security.
It will offer a range of services, including college courses and CV workshops, when it opens on 7 January.
Student Mark Purvis said: "It's been rewarding to see how our efforts have transformed the community centre."
The Hope Foundation took over the centre in October when local groups were offered the chance to take over council-owned buildings as part of £50m of council cuts.
The charity offers people advice, guidance and employability training.