Sean Price and Derek Bonnard drop Operation Sacristy claim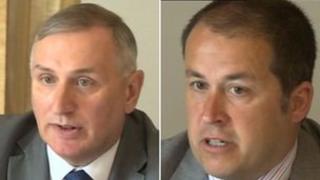 The former chief constable of Cleveland Police and his suspended deputy have dropped legal claims relating to their arrest as part of a corruption probe.
Sean Price, who was sacked in October, and Derek Bonnard started an action against three forces and the director of the National Crime Agency last May.
They claimed unlawful arrest and detention, trespass and a breach of human rights.
Solicitors for the men said new claims would start again in due course.
The pair maintain their arrest and detention were unlawful.
The senior officers were arrested in August 2011 as part of Operation Sacristy, a criminal investigation into allegations of corruption at Cleveland Police.
'Lawful and proportionate'
Mr Price remains on bail as part of the inquiry and was dismissed from his post after being found guilty of gross misconduct.
Mr Bonnard is due to appear at a misconduct hearing on 4 March.
He has been told he will not face any criminal proceedings and remains suspended from duty.
The pair had announced their intention to sue National Crime Agency director Keith Bristow in his role as head of Operation Sacristy along with North Yorkshire, Warwickshire and West Yorkshire Police - the forces whose officers are involved in the investigation.
A spokesperson for Operation Sacristy said: "We note that their civil claim has now been withdrawn.
"We intended to defend their civil action against us and would have demonstrated in court that their arrest, the searches and their interviews were necessary, lawful and proportionate."
A claim against the officers for the legal costs incurred in responding to the action and preparing a defence is being considered, he added.
In a statement, Rebian Solicitors, who had acted for both men, said: "As a result of further legal advice on timing issues, Mr Price and Mr Bonnard have taken the decision to discontinue their civil claim at this time.
"However, they fully intend to progress this matter to civil court in due course and continue to maintain that both their arrests and detention were unlawful."