Anger at wife killer Hassan Shatanawi deportation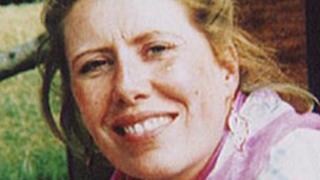 A Jordanian doctor who murdered his wife has been freed from jail and deported only weeks after the Parole Board warned he was still a danger.
Hassan Shatanawi, then from Hartlepool, has never revealed how he killed trainee travel agent Laura May Al-Shatanawi in 1994. Her family do not know what he did with her body.
Her brother, Don Vaughan, said the release was "absolutely disgusting".
The Home Office said it had apologised to the family for not warning them.
Home Secretary Theresa May used newly-introduced powers which allow foreign prisoners who have served the minimum part of their sentence to be deported if they have no right to remain in the country.
The prisoners can be released even without the Parole Board's recommendation.
Mrs Al-Shatanawi's family say they fear the 67-year-old could be anywhere as he is no longer monitored by the UK authorities.
'Dangerous man'
Mr Vaughan, from Hartlepool, said: "We believed from what the Parole Board said that he would remain in prison because he was still a dangerous man.
"Then we hear a couple of months later that he was on a plane and out of the country."
A Ministry of Justice spokesman said: "The government believes that foreign national offenders who have no right to remain in the UK should be deported at the earliest opportunity.
"We apologised to the family last year and acknowledged they should have been informed earlier."
Mr Vaughan, 53, said Shatanawi should not have been released before revealing what he did with the body of his wife.
Shatanawi reported his wife missing but her blood was found on the floor of a shed he had tried to destroy, where he is believed to have dismembered her body.
The couple had a seven-year-old son at the time of her murder.
He was jailed for life at Newcastle Crown Court in 1994 with a minimum term of 16 years and subsequently made three unsuccessful applications for parole.
The UK Border Agency said Shatanawi was handed over to the authorities in his native Jordan and is banned from returning to the UK for 10 years.