Language plea by Sacred Heart School, Middlesbrough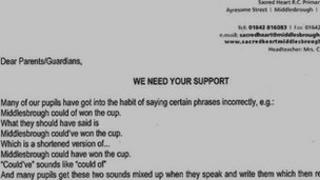 Parents at a Teesside school have been asked to correct their children's local accents and grammar.
Sacred Heart Primary School in Middlesbrough wants pupils to stop pronouncing "work" as "werk" and "shirt" as "shert".
Pupils were given a list of examples of incorrect grammar or pronunciation to watch, such as "gizit 'ere" and "yous".
Headteacher Carol Walker said she wanted to teach standard English, not to remove the Teesside accent.
Mrs Walker, who was born in nearby Stockton, said she wanted pupils to avoid being at a disadvantage in later life.
She said the response to her letter to parents had been "really positive" with no "negative reaction" at all.
She said: "I am not asking children to deny where they come from. I am saying to them there are certain situations where they need to be able to use standard English."
The letter lists several common Teesside phrases - some distinct from Geordie on neighbouring Tyneside and some common to children across the country.
It includes examples of incorrect usage, such as "could of", "I seen that", "it's nowt", "butta" and the use of "f" instead of "th" at the beginning of words.