John Coates murder: Budgie toy held Robert Baker's print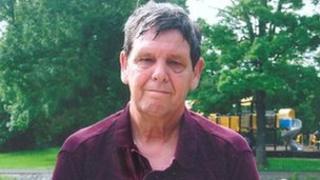 Killer Robert Baker had called on his victim for numerous favours.
The 24-year-old knew neighbour John Coates through borrowing his bike and using a key for the communal living room at the Middlesbrough tower block where they lived.
Baker repaid Mr Coates' kindness by beating him to death before dumping his body in a bath, leading the dead man's family to believe he had slipped and fallen.
Mr Coates' family "innocently" began to tidy his home at Fleet House in preparation for a new tenant, Teesside Crown Court heard.
But the flat soon became the centre of a murder investigation when it became clear the 61-year-old's death had been no accident.
A post-mortem examination found Mr Coates had suffered 15 blows to the head, three of them fracturing his skull.
'Savage beating'
Mr Coates, described in court as having "few friends and fewer enemies", had battled prostate cancer and enjoyed tending to his allotment and going on walking trips.
Baker took advantage of his character by using the communal key for which he was responsible and stealing a television from the living room.
Mr Coates had been anxiously trying to get the key back. He never did.
After "savagely and persistently" beating Mr Coates to death and dragging him into the bathroom, the court heard how Baker's "final selfish act" was to steal items from his victim's flat including an Xbox and a tablet computer.
Prosecutor Nicholas Lumley QC told the jury how Baker began boasting of his new possessions and even posted a message of condolence for Mr Coates on Facebook when he thought "the dust had settled".
The killer asked a friend if he knew how to delete photos of Mr Coates from the tablet and was seen scrubbing the XBox controller with a toothbrush and a bottle of toilet cleaner, the court heard.
When Baker was arrested he denied ever stepping more than a couple of feet into Mr Coates' flat to return the bike.
'Grass' fear
The court heard how he concocted several other stories in a desperate bid to cover his tracks.
Det Supt Peter McPhillips, who led the inquiry, said elements of the murder remained a mystery
He said: "Unless Robert decides to speak to the police or speak to people in prison, we're never going to actually know why or what the reasons were for him committing the offence."
Baker, who had no previous convictions for violence, had "never ever" shown any remorse or regret for his "callous" attack, Det Supt McPhillips added.
CCTV images showed him leaving the tower block with bags full of items which the prosecution said were evidence of his brutal crime.
Baker insisted he was handling stolen goods for a "dealer" he refused to name in fear of being labelled a "grass".
But the killer had no explanation for one piece of evidence.
Forensic officers found his thumbprint in wet blood on a piece of plastic from a budgie's toy at Mr Coates' flat.
Under cross-examination Baker simply said he had "no idea" how it got there.