Derek Bonnard to leave Cleveland Police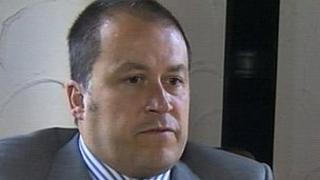 The suspended deputy chief constable of Cleveland Police will lose his job regardless of the outcome of an ongoing misconduct hearing.
Derek Bonnard has been told his contract will not be renewed when it expires in September.
Mr Bonnard, who was suspended when he was arrested in 2011 as part of corruption inquiry Operation Sacristy, has denied any wrongdoing.
He is subject to a separate misconduct hearing which has started in private.
Notice period given
Mr Bonnard faces seven allegations of misconduct following an investigation by the Independent Police Complaints Commission (IPCC).
He has been told he will not face criminal charges in relation to his arrest.
The post of deputy chief constable has been advertised with a starting salary of £109,782.
A spokeswoman for Cleveland Police said Mr Bonnard had been "provided with six months' notice that his contract is not being renewed".
If Mr Bonnard is cleared at the misconduct hearing he would serve as deputy chief constable until the end of his contract, she added.
The force's former chief constable Sean Price was sacked in October when he was found guilty of gross misconduct at an IPCC hearing.
Mr Price remains on bail as part of Operation Sacristy.