Carbon capture: Teesside MPs disappointed at funding snub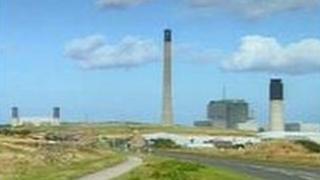 Teesside Labour MPs say they are disappointed the area has not got funds to develop carbon capture technology that could have created 250 jobs.
A Wilton-based consortium has missed out on a share of up to £1bn of government money in favour of projects in Aberdeenshire and Yorkshire.
Middlesbrough MP Andy McDonald said the government had failed to give Teesside "the shot in the arm it needs".
Energy Secretary Ed Davey described all the bids as "excellent".
Carbon capture is the process of capturing and storing carbon dioxide emissions from facilities such as power stations to stop the Co2 entering the atmosphere.
The Teesside Low Carbon programme aimed to store carbon dioxide under the North Sea and use hydrogen to generate electricity.
'Ideally suited'
It will now be a "reserve project" along with a bid from Grangemouth, the Department of Energy and Climate Change said.
Mr Davey said: "We had four excellent bids and I'd like to thank each one of them for their hard work.
"We will now be working swiftly to progress our preferred two, while making sure we continue to provide the best possible value to taxpayers."
Tom Blenkinsop, MP for Middlesbrough South and East Cleveland, said the decision was a "kick in the teeth".
The consortium was led by Progressive Energy and involved BOC, GDF SUEZ and Premier Oil.
About 1,000 jobs would have been created in Teesside in the construction stage, with 250 employed permanently on the the scheme, project leaders said.
Mr McDonald added: "We have a strong and well-earned reputation for leading the way in low carbon industries and would have been ideally suited for this type of revolutionary development."