Cleveland Police deputy chief constable Derek Bonnard sacked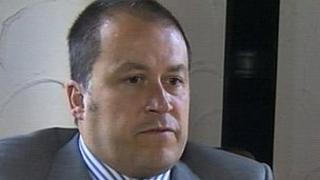 The deputy chief constable of Cleveland Police, Derek Bonnard, has been sacked from the force for gross misconduct.
Mr Bonnard was suspended when he was arrested as part of a corruption probe in 2011 and denied any wrongdoing. The former chief constable was also sacked.
The force said Mr Bonnard was sacked for six counts of gross misconduct, including obstructing the inquiry and misusing a corporate credit card.
Mr Bonnard said he planned to appeal after being treated "appallingly".
His dismissal followed a disciplinary hearing which began earlier this month.
'Not innocent'
The six counts against him included deliberately obstructing the criminal investigation, misusing public funds in relation to a charity bike ride, misusing a corporate credit card, inappropriately hiring a vehicle which he crashed, costing the tax payer more than £5,000, and accepting inappropriate hospitality.
The independent panel decided to dismiss Mr Bonnard without notice.
The allegations of gross misconduct followed an inquiry by the Independent Police Complaints Commission (IPCC).
He had faced seven counts of gross misconduct, but the seventh charge, that he had acted contrary to Cleveland Police policy in relation to the purchase of a vehicle provided to him by the police authority, was found not proven.
He was arrested along with the force's former chief constable Sean Price, in August 2011.
Mr Price was sacked last year after he was found guilty of gross misconduct at a separate hearing.
Current chief constable Jacqui Cheer said: "In May 2012, Derek Bonnard publicly stated he was innocent of any wrongdoing and wanted his name cleared.
"He also described the investigation as highly expensive, recognising that it was funded by tax payers.
"Quite clearly, he is not innocent of any wrongdoing, and he has succeeded in delaying his misconduct hearing, which has incurred additional cost for the tax payer.
"Throughout the investigation and the disciplinary process he has sought to blame others for his own actions and behaviours.
"He has let himself down, he has let Cleveland Police down but most importantly, he has let the people of Cleveland down. The force deserves much better from one of its most senior officers."
'Sorry chapter'
One count of potential gross misconduct for Mr Bonnard has been deferred pending the outcome of ongoing investigation Operation Sacristy.
Cleveland Police said as Mr Bonnard was no longer a serving police officer, he was not subject to any further police disciplinary processes.
IPCC Commissioner Nicholas Long said: "Mr Bonnard's dismissal brings to an end a sorry chapter for the Cleveland Police.
"The two most senior police officers in the force have had their careers unceremoniously ended because of their individual failings. Events of the past two years can only have diminished public confidence in the force.
"I hope the conclusion of these disciplinary matters can act as a salutary reminder to all senior police officers that their role is to ensure the communities they serve are protected from crime and that they must be public servants beyond reproach.
"Above all, they must not to abuse the trust placed in them to benefit themselves and others financially."
In a statement, Mr Bonnard said: "When I was arrested some 19 months ago I knew, despite my innocence, that my life and professional career would be changed forever... throughout this investigation I believe I have been treated appallingly with scant regard paid to providing a fair hearing.
"I will undoubtedly be blamed by some for challenging the misconduct process against me.
"However, like any other individual I deserved a fair trial and I simply tried to ensure that happened... an appeal will now be submitted against the findings of the misconduct hearing in order to clear my name."