Hartlepool Power Station fire: Probe after oil leak in turbine tackle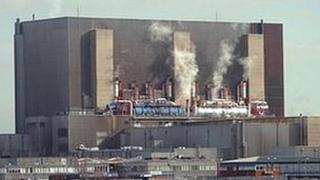 An oil leak may have sparked a "small" blaze at Hartlepool Power Station, the nuclear plant's boss said.
Site director Simon Parsons said the fire broke out after the spillage onto a turbine on Saturday evening.
But he stressed the public and staff at the EDF Energy-owned plant were never at risk and that no-one was injured.
Mr Parsons said investigators would be at the site all day probing the cause of the oil leak.
Fire crews and police remained at the scene for several hours after the blaze broke out at about 18:30 BST.
'No threat'
Mr Parsons said: "Our staff and members of the public were never under threat or compromised. There was residential smoke which was extinguished quickly.
"Investigations will be taking place at the plant all day."
A police statement said: "During incidents such as this, there are several procedures that take place including the venting of steam generators.
"This particular process causes noise, which residents of nearby areas such as Seaton Carew may hear."
The smoke being released had no "implications for members of the public", it added.
Power generation by two advanced gas-cooled reactors began in 1983 at the Tees Road plant which was taken over by EDF in 2009.