Son's 11,800 mile ride to lay mother's ashes in County Durham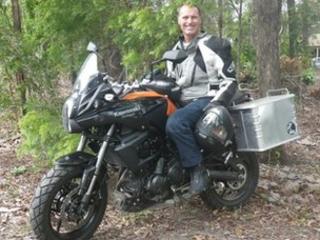 A man is travelling thousands of miles by motorbike from Australia to County Durham to lay his mother's ashes where she was born.
Paul Brown's mother Patricia was diagnosed with Alzheimer's disease in 2004 and died in May.
She was born in Bishop Auckland in 1933 then moved to New Zealand in 1961 before moving to live with her son in Australia after she was diagnosed.
He now plans to travel 11,800 miles (19,000km) from his home on Australia's Sunshine Coast to Bishop Auckland on his motorbike.
The 51-year-old will carry her ashes across Australia, Russia and Europe before ending his journey near to Westerton in Bishop Auckland.
'Feeling of relief'
He said: "This is something I have to do, not only for my mum and her family but for all suffers of Alzheimer's and dementia.
"The sad part is from that point on you watch helplessly as this person you know as your mother slowly become a shell with no memory or recollection of anything.
"She started in a low care ward before moving to high care once she lost the ability to walk.
"For the last few years she just lay there.
"I suppose the one saving grace is that when they finally pass away it hasn't come as a shock unlike if they are killed in a car crash.
"It is sad that you kind of feel relieved for them because, when the dementia is in its advanced state, it is no way to live and you just hope they have gone to a far better place."
Mr Brown sold his car to help fund the trek and completed the first section of the journey during April - a 4,600 mile (7,500km) ride around eastern Australia.
Once his bike has been shipped to Korea, he will fly there, collect it and is expecting to begin the major leg of the journey in June.
He hopes to reach the north-east of England in September when he plans to lay his mother's ashes next to his grandmother's ashes in St James' Church in Coundon.
'Soul-destroying disease'
Armed with a sleeping bag, tent, food and drink, he said one of the biggest tests has been administration.
"The biggest challenge so far was finding out just how to go about getting bikes into Russia, all the paperwork I might need such as passports, visas and insurance," he said.
"Also travelling alone in a place like Russia brings its own worries, not only for me but my family back in Australia."
Mr Brown is raising money and awareness for Neuroscience Research Australia and The Alzheimer's Society.
"It's not so much the money, it's more making people aware of this soul-destroying disease and if we don't do something shortly our health system is going to struggle."