Middlesbrough anti-austerity rally held by unions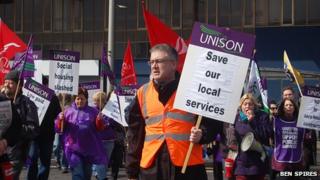 A demonstration has been held in Middlesbrough against the coalition government's austerity measures.
Organisers Unison estimated about 300 had taken part in the march to Centre Square.
They claimed public sector cuts "were not working" and criticised levels of poverty and unemployment in the area.
But North East conservative MEP Martin Callanan argued "painful measures" were essential.
He said: "Austerity is living within your means, it's trying to get the budget deficit down to manageable levels."
Simon Elliot, regional secretary of the Public and Commercial Services Union (PCSU), said: "The people of this area are not prepared just to sit back and accept this.
"Areas of Middlesbrough in particular, but other places in Teesside, now have the worst child poverty and the worst unemployment anywhere in the UK."
He claimed this was as a result of job losses, pay freezes and "disproportionate cuts" made to the area's local authority budgets.