Middlesbrough dog Buster survives swallowing 26in chain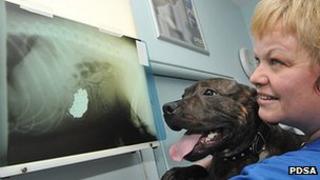 A Teesside couple's puppy bit off more than it could chew when it swallowed a 26in (66cm) metal chain.
Nine-month-old Staffordshire bull terrier Buster had to have emergency surgery after munching on his own lead.
Owner Jackie Stephenson and her partner Des Connor, from Middlesbrough, were shocked to discover Buster had playfully taken the chain from a table.
Vets at the town's PDSA surgery successfully removed the chain from Buster's stomach. He is now recovering.
Ms Stephenson, 38, said: "I was in bed ill at the time, when Des came running upstairs and told me that Buster had swallowed his lead, which is a metal chain measuring over 2ft.
"At first I didn't believe it. I ran around turning the house upside down looking for the chain.
"I didn't think there was any way that he could do that. Plus he's always been such a good puppy and never tried to eat anything before."
Mr Connor said he had been on the phone when Buster reached up and took his lead.
"By the time I caught up with Buster I saw the end of the chain slip down his throat," he added.
Although the dog did not show signs of illness, the couple took him to Middlesbrough's PDSA PetAid hospital.
PDSA veterinary surgeon, Mary Tonge, said: "We examined Buster's stomach and couldn't feel anything unusual. It wasn't until we X-rayed him that we saw the true picture.
"He must have swallowed the chain in one go. It was just lying in his stomach and luckily hadn't passed into his intestines, which would have been potentially deadly."