Cleveland Police hunt sex offender Geoffrey Ball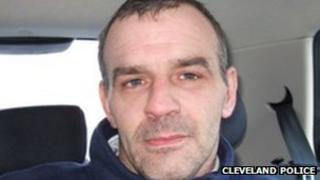 Police are looking for a sex offender with a history of violence after he failed to register with the authorities.
Geoffrey Mark Ball, 41, is wanted for a breach of "notification requirements" under the Sexual Offences Act.
Ball, originally of Newport in south Wales, has been jailed several times before and was last seen in a Redcar pub about a week ago.
Cleveland Police have warned the public not to approach him.
Ball is described as being 5ft 10in tall, of proportionate build with short black hair.
Recently in prison
Police said he was a regular user of social media and has been known to frequent betting shops and pubs in the Redcar area.
He was convicted of indecently assaulting a woman in 1989 and jailed for six months.
In 2006, he was jailed for four years for grievous bodily harm.
Police said Ball was placed on the Sex Offenders Register until 2017 after a five-week prison sentence in 2010 for sexual assault.
Det Insp Kath Barber said: "Mr Ball is originally from Newport and came to Cleveland in 2011. He has resided all over the country and has links to other areas, although our search has started in Cleveland as this is the last place he was seen.
"He was recently released from prison after serving five weeks of a ten-week sentence for breaching his notification requirements and he has failed to notify police of his whereabouts."