Saltburn Pier 'yarnbombers' produce new designs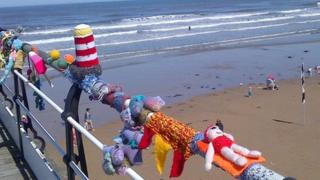 Mystery knitters have added to the intrigue surrounding their identity by leaving a new set of creations on a seaside pier.
The Saltburn 'yarnbombers' have covered half of the town's pier with woolly designs celebrating a day at the beach.
Fish and chips, lifeguards and people sunbathing all feature in the display, which appeared overnight on Saturday.
Knitted tributes to the Olympics and the Royal family have previously appeared in the town.