Teesside measles campaign sees hundreds vaccinated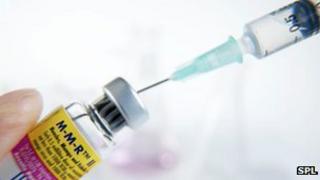 Hundreds of children on Teesside have been vaccinated against measles after warnings about a dangerous outbreak.
Medics have administered the vaccine to 2,500 pupils since a school campaign was launched in April.
More than 300 people in the area have been infected with the disease this year.
Prof Peter Kelly, chair of the outbreak control team, urged parents to check whether their children had received a notification letter from school.
The outbreak was showing signs of "levelling off", but it was too early for parents to be complacent, Prof Kelly said.
Doctors will chase up patients registered with their surgeries once the school vaccination programme ends.
The majority of cases have been reported in the Middlesbrough and Stockton areas.