Helicopter used to link giant pylons in Middlesbrough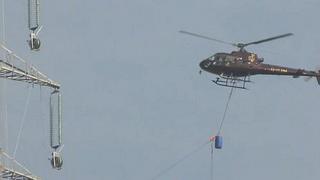 A helicopter has been used to help place new power lines across two of the tallest electricity pylons in the north of England.
The delicate operation was carried out in Middlesbrough, where two 425ft (145m) pylons have been built either side of the River Tees.
The work is part of a £50m National Grid project to replace sections of overhead line on Teesside.
The pylons were built so cables near a chemical plant could be moved.
'Safe distance'
Project manager Mark Brennan said: "This is a very tricky operation.
"The new lines are being installed at such a great height because of the width of the River Tees at the crossing point and the fact that we need to make sure there is a safe clearance distance for the ships which will pass below."
The line over the Tees is part of the network of overhead lines, underground cables and substations that carry high voltage electricity across the country.
The ongoing project involves replacing existing wires, renewing steelwork, foundations and other equipment on a total of 30 pylons.
A further 12 pylons are being dismantled and new ones built to replace them.