Saltburn youth workers knock on doors of jobless teens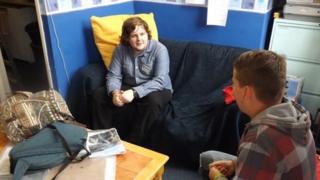 When 19-year-old Robert Leech heard a knock at his door he assumed it was "something to do with the bible".
The cold callers hoping to speak to him were in fact making their way through a list of unemployed teenagers.
Youth workers from the Doorways project in Saltburn are calling on youngsters not in education, employment or training (Neet) to offer them support and advice.
The seaside town forms part of Redcar and Cleveland, the council area with the joint highest percentage of Neets in England, according to Department for Education data.
Mr Leech, who has never worked, was unaware of the project but now intends to spend time there as soon as he has finished a volunteering placement with a local charity.
Doorways is contracted by the Elite Programme, which is supported via the European Social Fund.
Staff can fine tune CVs and aim to improve youngsters' confidence with mock interviews in between games of pool at lunchtime.
The atmosphere is welcoming and relaxed as teenagers get advice ranging from how to deal with the job centre to local college courses.
Project coordinator John Pearson, 59, said he decided to hit the streets when the charity was struggling to engage with Neets.
"We look for barriers and find the best ways to overcome them," he said.
"Knocking on doors is common sense to us because we work on a one-to-one basis. When it comes to Neets, quite often they're living at home and are depressed.
"We've always dealt with people who are lacking confidence, the whole 'I don't know what I want to do' idea.
"We're not a classroom environment, we don't march people through programmes, we try and be personal and build relationships.
"The pool table is a great leveller. While you're on there you can be asking all sorts of questions about what's going on and what they'd like to do in the future."
'Experience cycle'
Youth worker John Thompson, 26, said Mr Leech was, like many other teenagers Doorways deals with, "caught in the experience cycle".
"I've applied for loads of positions and have been told I'm over qualified or lacking in experience," Mr Leech said.
"How can you be overqualified for a job? Surely that is a plus rather than a negative.
"At the moment I'd honestly take anything that comes along, but in the long run a career of some sort would be good."
Redcar and Cleveland shares the unwanted top spot for Neets with neighbouring Middlesbrough.
Plans being drawn up there to engage with teenagers include street flash mobs more often associated with corporate marketing campaigns.
Mr Pearson is in favour of such innovations and is preparing to host a "Mocktails in the park" event, complete with fake grass and trees, outside the charity's base in Station Square.
"You've got to go off the wall sometimes," he said. "Because if you're doing and saying the same old stuff to kids it just doesn't register."
The door knocking will continue amid the grass deliveries and Mr Thompson insists it is far from cold calling.
"What we do is warm calling," he said.
"Because if we turn up on the door apprehensive or nervous the kids won't come down."