Dave McLuckie 'asked friend to take penalty points'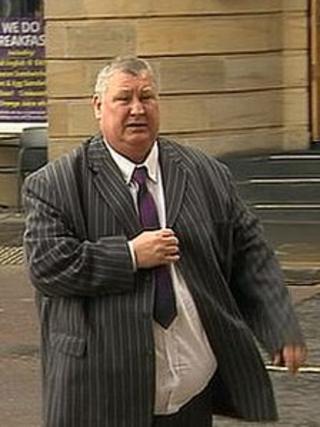 A former police authority chairman persuaded a friend to take three penalty points for him so he would avoid a driving ban, a court heard.
Dave McLuckie, who worked for Cleveland Police Authority, told Maurice Ward he needed a "big favour" to help his career, Newcastle Crown Court was told.
A car belonging to Mr McLuckie was clocked at 36mph in a 30mph zone at Carlin How in April 2005.
The 51-year-old denies perverting the course of justice.
Mr McLuckie, from Great Ayton, North Yorkshire, was a Redcar and Cleveland councillor at the time of the alleged offence and was then vice-chairman of the police authority.
The jury was told he was on the verge of taking the senior role at the authority, but already had nine points on his licence for speeding and was facing a ban if three more were added.
Sour relationship
Nick Dry, prosecuting, said the offence came to light only after Mr Ward's death in January last year.
Mr Dry said Mr McLuckie visited his friend, who lived in the same village, 13 days after the speeding offence, saying he needed "a big favour".
In the earshot of Mr Ward's wife, Mr McLuckie asked his friend to take the penalty points as a ban would affect his chances of becoming police authority chairman, Mr Dry said.
But the court heard Mr Ward's relationship with the defendant "soured" after he fell ill with cancer in 2007 and felt the police authority chairman had avoided visiting him in hospital.
Before the father-of-two died from the disease, he wrote a note detailing what he did for Mr McLuckie, Mr Dry said.
His widow only opened it after he died, the court heard.
'Motivated by malice'
Mr Ward, who kept a diary, also told other members of the family what he had done, the jury heard.
His daughter Donna told a local councillor what had happened and the police were informed.
His diary showed that on the day of the speeding offence Mr Ward had given his son and wife lifts in the Skelton area.
After his arrest, Mr McLuckie told police the allegation was "motivated by malice", the court heard.
Mrs Ward told the court the two families knew each other from living together in Skelton and her son had had a relationship with Mr McLuckie's daughter.
She said the families would watch Middlesbrough FC in an executive box with the future police authority chairman.
Asked whether her husband should have taken the points, she said: "He shouldn't have done it."
The hearing continues.