PCC Barry Coppinger likely to back police mounted section's axe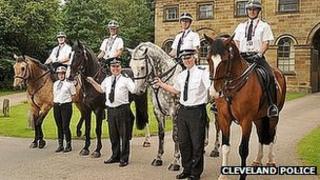 Cleveland's police and crime commissioner (PCC) has indicated he will not seek to resist the force's decision to disband its mounted section.
Barry Coppinger has pledged to "thoroughly and rigorously" assess the reasoning behind the move.
But the PCC told the area's police and crime panel he had to respect the chief constable's "operational independence".
Axing the five horses is expected to save £88,000 a year.
The PCC has invited members of the public to contact his office with their views on the decision.
'Wrong decision'
Questioning him on Monday, police and crime panel chair Norma Stephenson raised concerns about how the force would get access to horses for events such as football matches.
Councillor Chris Abbott asked Mr Coppinger to consider the public relations value of the horses.
He said: "It seems odd that we can't afford to provide horses for the protection of the public in the area. They provide a vital service."
Mr Coppinger said the decision ultimately lay with the chief constable.
"We've got to respect that operational independence," he said.
"There's a line to be drawn and not crossed."
Chief Constable Jacqui Cheer has described the decision as "one of the hardest" she has made.
Steve Matthews, chair of the Cleveland Police Federation, said it was the "wrong decision".