Middlesbrough Council's Tony Parkinson on tackling cuts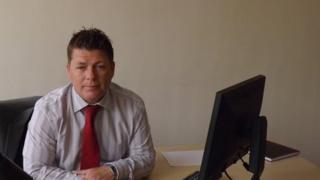 When Tony Parkinson's job was created, it was quickly branded a "disgrace" by trade union leaders.
Middlesbrough Council's first director of transformation is being paid £91,000 to oversee millions of pounds worth of cuts.
And as he settles in to his new role this week, Mr Parkinson accepts there is scepticism surrounding the post.
"While I can understand the position of the trade unions, the reality is that the creation of this post will actually save money," he said.
"I can see the creation of another highly-paid post does cause a reaction but I think we've got to look at it in the round."
'Shrinking council'
A reorganisation of management posts at the council is expected to save about £100,000 and Mr Parkinson is facing a funding gauntlet which means the council must save £70m by 2016.
"There is no escaping this," he said. "The authority will lose millions of pounds over the next few years. We have cut our cloth and this is the mechanism we're using to achieve that.
"My role is about transforming the way the council looks, the way council feels and the way the council acts. I think there are lots of positives in that."
The current year's budget will see 220 staff lose their jobs and Mike Hill, regional organiser for Unison, said the introduction of a "high ranking" post was an affront to a "hidden army" of low paid workers.
Mr Hill said: "Are other local authorities recruiting people to drive these efficiencies through? No"
Mr Parkinson accepts austerity measures "are not going to go away".
"I like a challenge, it is a challenge," he said. "There are lots of things we can do to make this council more efficient but still deliver services to the taxpayer."
The 47-year-old believes his experience in overhauling services stands him in good stead.
"I've been in adult social care within Middlesbrough for 10 years and it's fair to say that's transformed itself on a number of occasions.
"If you track back over 10 years it was an overspending department, which was something the council couldn't afford.
"[This role] is about changing the culture of the organisation and to some extent the town."
Three days into his role, Mr Parkinson said he had a "clear plan" of how a "shrinking council" can protect the most vulnerable.
"I'm not so sure I can hit the ground running," he said. "I'll be happy to hit the ground walking."
"I will get huge satisfaction from protecting frontline services."