Dave McLuckie 'may have been speeding driver'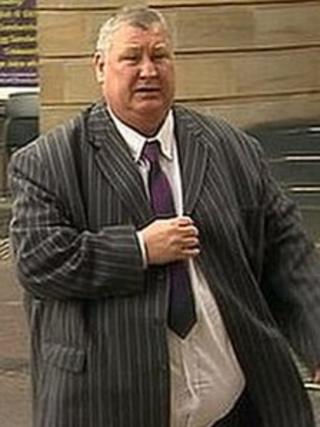 The former police authority chairman accused of persuading a friend to accept his speeding points has said he may have been behind the wheel at the time of the offence.
Dave McLuckie, who led Cleveland Police Authority, told Newcastle Crown Court a photograph taken of the driver could have been him but he did not know.
The 51-year-old denies perverting the course of justice.
He is accused of trying to avoid a driving ban to protect his career.
The jury has heard how he was on the verge of becoming chairman of the authority at the time of the motoring offence in April 2005.
'Big favour'
During police interviews, Mr McLuckie said his friend, Maurice Ward, would regularly use his car.
He said he thought Mr Ward, who died last year, had been driving the vehicle when it was caught by a speed camera in Carlin How doing 36mph in a 30mph zone.
Mr Ward accepted this was the case and agreed to take the three penalty points without persuasion, Mr McLuckie said.
The Redcar and Cleveland councillor, of Great Ayton, North Yorkshire, was arrested in October.
Prosecutors say the offence only came to light after Mr Ward's death.
It is alleged Mr McLuckie visited his friend 13 days after the speeding offence, saying he needed "a big favour".
Mr McLuckie, who was vice-chair of the authority at the time, already had nine points on the licence, the court has heard.
He told the jury he was victim of a conspiracy to set him up and was unaware then that 12 points would have been likely to lead to a ban.
In any event, being disqualified would not have stopped him taking the chairmanship, he said.
The hearing continues.