Barnard Castle's crumbling walls to be assessed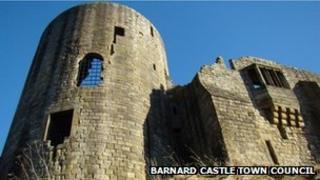 The extent of damage to the crumbling walls of Barnard Castle in County Durham is to be assessed.
Parts of the castle's walls collapsed four years ago but the damage has been left unrepaired as no-one has accepted responsibility.
Now, Durham County Council, English Heritage and Raby Estates have agreed to fund a structural survey jointly.
The three groups said they realised the importance of working together to resolve the "complex issue".
The structural survey will be carried out from County Bridge to properties behind Bridgegate.
The joint statement said: "We are pleased to say that at a very positive meeting in Newcastle the three parties involved in attempting to resolve this complex issue have acknowledged the importance of working together to find a solution.
"All three parties have also committed to keeping the public and other interested parties fully informed of progress on this work.
"A full brief and timescale for this study will be drawn up as a priority and, as soon as it is practical, this survey will get under way."
Durham County Council said as a matter of "urgency" it would reinforce the fencing and security to protect the public.
None of the three groups has accepted responsibility for the maintenance.
Set high on a rock above the River Tees, the castle is named after its 12th Century founder Bernard de Balliol.