Stockton Globe renovation plans wait on lottery grant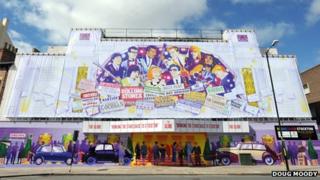 The company behind a proposed £4m renovation of Stockton's Globe Theatre has "no plan B" should the project fail to secure lottery funding.
Stuart Monk, managing director of the Globe's owner Jomast, said the firm was confident an application for Heritage Lottery Fund cash would be successful.
The Grade II-listed building has hosted music acts including The Beatles.
Stockton Council leader Bob Cook said a decision on funding was due in September.
"If we don't get the money we would have a rethink and see what we can come up with," Mr Cook said.
The Globe has stood unused since the 1990s. Lottery funding is needed to complete repairs to the building.
Mr Monk said Jomast was committed to bringing the venue back into use, but it was "not an easy game".
"I don't have a plan B at the moment," he said. "I don't need a plan B because I'm pretty confident that plan A will be successful."
The building, on the town's High Street, is covered in a £18,000 facade featuring names of acts who performed there in its heyday.