Egg thief threatens Crimdon colony of little terns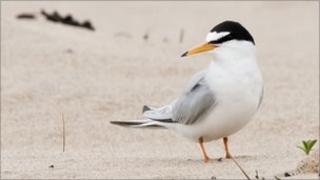 Conservationists fear a colony of endangered sea birds on the North East coast could be wiped out after eggs from breeding pairs were stolen.
Durham Heritage Coast wardens said about 50 eggs from 65 nesting pairs of little terns had been taken from the site at Crimdon, near Hartlepool.
The organisation's Niall Benson described the theft as "morally repugnant and criminal".
Durham Police appealed for witnesses to any suspicious behaviour in the area.
Mr Benson said the theft was discovered early on Wednesday and must have happened the previous night.
'Rapid decline'
He said: "Last year the colony raised no chicks and this year has seen far fewer birds nesting.
"This loss is another hard hit and likely to lead to the extinction of the colony at Crimdon.
"What makes it worse is that these eggs are two-thirds through incubation with well-formed chicks inside.
"Little terns are one of Britain's rarest sea birds and are in rapid decline internationally. They come from west Africa every year to nest at Crimdon.
"Last year 110 pairs raised no chicks due to natural predators.
"This year we only have 65 pairs and this human predator is morally repugnant, criminal and will lead to the extinction locally of this amazing acrobatic, long-distant migrant.
"I simply cannot understand why someone would do this."
The birds need a mixture of sand and shingle to make their nests, which means they usually choose beach areas susceptible to attack from natural predators like kestrels and sparrow hawks.
Insp Dave Coxon, of Durham Police, said: "We are currently working with members of our Coastwatch scheme to identify any suspicious behaviour and, as with any report of theft, we will investigate it thoroughly and aim to bring the perpetrators to justice."