Captain James Cook sculptures unveiled in Stewart Park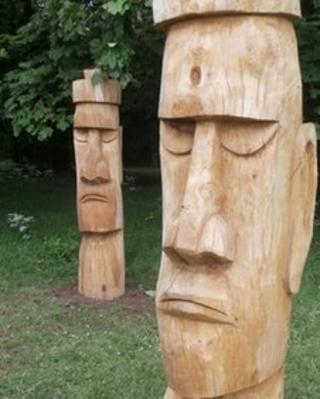 Sculptures inspired by the life of explorer Captain James Cook have been installed in a park in the town where he was born.
The carvings in Middlesbrough's Stewart Park celebrate the voyages of Captain Cook and the discoveries he made.
A-level students from Trinity Catholic College contributed to the designs which were completed by artists Steve Iredale and David Gross.
Mr Gross used oak and cedar timber salvaged from the park for his pieces.
Didgeridoos
The sculptures were part-funded by the Heritage Lottery Fund.
Student Ashleigh Ingledew designed a Maori-themed seating area and Nora Al-Raubaiee worked on a bench inspired by Easter Island.
Three "seating gazebos" represent Cook's trips to Canada and Australia, Middlesbrough Council said.
They feature native American houses and didgeridoos.
A sculpture of Captain Cook with his spyglass and Maori war canoe, focusing on his exploration of New Zealand, is situated in a playground in the park.
Middlesbrough councillor and chairman of the Friends of Stewart Park, Tom Mawston, said the artwork was a "fantastic addition" to the park.