Mima gallery in bid to re-launch drawing competition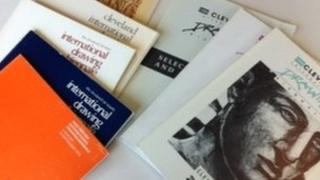 Artists and academics are coming together to discuss the possibility of reviving an international drawing competition on Teesside.
Middlesbrough Institute of Modern Art (Mima) will host a forum on Thursday to debate a successor to the Cleveland International Drawing Biennale.
The Biennale, which had links with David Hockney and Claes Oldenburg, came to an end in the 1990s.
Prize-winning drawings are held in Mima's permanent collection.
Marie Neeson, education and audience development manager at the gallery, said the Biennale was well established.
"It started in 1973 and went on until 1996," she said.
"Everyone has always said 'what are you going to do about bringing the Biennale back?' It had such a big impact on local people and international artists.
"It's really important for the town."
Panellists at the Drawing Symposium event on Thursday include Michael White from York University, Anita Taylor, director of the Jerwood Drawing Prize and Mima director Kate Brindley.
"We're really keen to get people along and to send in questions for the panel," Ms Neeson said.