Darlington council confirms art centre building sale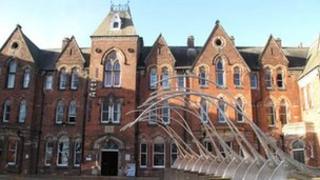 Darlington council is to put the town's former arts centre up for sale after efforts to secure its future collapsed.
The venue, in Vane Terrace, closed a year ago as part of plans to trim £11m from the authority's budget.
A proposed development involving a hotel and business outlets, which would have had subsidised arts facilities, fell through due to a lack of funding.
The council has pledged to consult on how to re-invest proceeds from the sale in local arts projects.
A council spokesman said: "With the support of the council, potential investors submitted a bid for cornerstone funding to Arts Council England and another funding bid to the UK Regional Growth Fund, which were ultimately unsuccessful.
'Feels wrong'
"The council feels it now needs to move to resolve the future of the Vane Terrace building and resolve how future investment in the arts should take place.
"We are looking forward to working with arts organisations and to hear the views of those interested in the arts in Darlington."
John Dean, from Darlington For Culture, said: "The decision to close the arts centre felt wrong last year and it feels wrong now.
"I think there was a place for Darlington Arts Centre among everything else that was happening, but out of necessity people have had to find new homes.
"Virtually all the arts groups that were using the centre are still operating, but now doing it elsewhere."
The building, designed by James Pigott Pritchett, dates from 1876 and was originally used as an education college.
It was extended in the early 1900s and Darlington Arts Association formed in 1976.