Yarm housing development approved despite opposition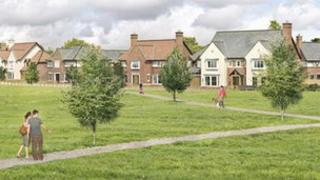 A new housing development on Teesside has been formally approved after the government decided not to review the decision.
Nearby residents have opposed plans for 370 homes on Green Lane, Yarm.
Stockton Conservative MP James Wharton said: "Labour councillors, who forced this through against local wishes, should hang their heads in shame."
Stockton Council leader Bob Cook said the council understood residents' "strength of feeling".
The planning approval process had been halted by Secretary of State for Communities and Local Government Eric Pickles, in order to consider whether to "call in" the development for review.
Mr Cook said the decision not to review it demonstrated "our planning committee is delivering fully reasoned decisions in these difficult cases."
Mr Wharton said: "I am devastated that Stockton Council's latest plan to build ever more houses in Yarm and Eaglescliffe now looks set to go ahead."