James Wharton's EU bill: reaction from Stockton South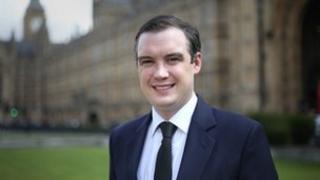 MPs have debated Conservative MP James Wharton's bill on whether to hold a referendum on the UK's membership of the European Union. But what do his constituents in Stockton South think?
Yarm is a pretty town on the south bank of the river Tees.
And while it appears quite prosperous, it is actually the local MP who has hit the jackpot.
Stockton South Conservative James Wharton hit the headlines when he came top of a ballot to bring a private member's bill before Parliament.
Such bills rarely attract much attention, but Mr Wharton chose a rather hot topic by calling for a referendum on Britain's membership by 2017.
But is a law on Europe what his constituents really want?
In the El Abanico tapas bar in Yarm, the hubbub of Spanish conversation could be heard in the kitchen as dishes were prepared.
Diners there were divided over whether a referendum bill is a priority.
Tony Jones disagreed with Mr Wharton's choice.
"For this town itself it's more to do with the local housing," he said.
"There's lots of new developments that have been proposed that I don't think are right for the town so for me that would be more of a priority."
A group of local traders on a nearby table were preoccupied by the threat of parking charges on the town's high street but supported the bill.
Florist Michael Girot said: "Europe is important. I'm very much wanting to bring the debate out into the open, I think for far too long we've been dictated to by Brussels."
As for Mr Wharton, he insists the issue is important for the area.
"People deserve to have a say on our relationship with Europe," he said.
"It has changed out of all recognition from the European community we joined in 1975 but it it isn't the single biggest issue, it is one of a number of significant issues."
Mr Wharton's political opponents say the bill is more about heading off threats from rival parties in what is a marginal seat. The Tory majority is less than 350.
Alex Cunningham, Labour MP for Stockton North, said only eight constituents had contacted him about Europe in the last few weeks.
"This is all about James Wharton saving his skin," he said. "UKIP are very much on the horizon here."
"We want jobs, growth and investment, not to see it drain away because we leave Europe."
There will be more reaction from Stockton to James Wharton's bill this weekend on Sunday Politics in the North East and Cumbria at 11:00 BST on BBC One.