Hartlepool's Maritime Experience free parking could end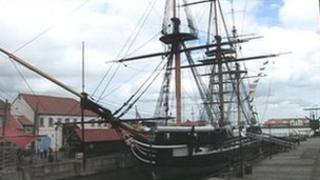 Plans to cease free parking at an attraction in Hartlepool are to be discussed by the town's council.
The car park outside the Maritime Experience could be turned into a pay and display car park to help museum visitors to park.
A spokesman for Hartlepool Borough Council said visitors would be able to redeem the cost of the £1 ticket against admission to the attraction.
The council will make the decision on the proposals at a meeting on Monday.
It added: "The proposal to introduce a 'pay and display' parking charge reflects concern that on occasions the capacity of the currently free car park is being exceeded due to large numbers of drivers parking there to avoid town centre parking charges, attend matches at Hartlepool United's Victoria Park or escape vigorous parking enforcement on neighbouring privately-owned land.
"If a charge is introduced, the Neighbourhood Services Committee is also being asked to approve parking controls on adjacent Maritime Avenue to prevent parking by drivers displaced from the Hartlepool Maritime Experience car park."