Greatham Creek enjoys 'baby boom' for seal season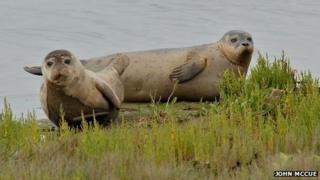 A Teesside nature reserve has had a boost with a seal pup "baby boom".
The seal-viewing season began on Saturday at Greatham Creek, near Hartlepool, and staff have reported a record-breaking 18 pups so far in 2013.
Ben Calvert from the RSPB said: "The birth of so many seal pups is a great way to start this year's event. They're always hugely popular with our visitors."
More than 4,000 people visited the site last year, the RSPB said.
The 18 pups have been recorded by the Industry and Nature Conservation Agency, responsible for carrying out official monitoring of the Tees seal population.
The RSPB said the "seal pup baby boom" had got the season off to a "flying start".
Mr Calvert said: "Last year was a record-breaking year, with more common and grey seals than ever before making their home at the creek.
"Watching the seal families haul themselves out of the water and sunbathe on the mud is a sight not to be missed."