Drug suspect Brian Charrington arrested on Costa Blanca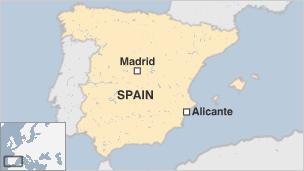 A former Middlesbrough car salesman suspected of being involved in an international drug-smuggling operation has been arrested in Spain.
Brian Charrington, 57, was detained in the Costa Brava in a joint operation between Spanish and UK police.
More than 220 kilograms of cocaine was also recovered from an apartment in Alicante, the Serious Organised Crime Agency (Soca) confirmed.
Bank accounts and goods worth £4.3m (5m euros) have also been frozen or seized.
Several other arrests were also made as part of the operation in Spain and Venezuela, South America.
A Soca spokesman said: "Our officers provided assistance to a Spanish Policía Nacional investigation, which led to the arrest of a number of individuals wanted in connection with an alleged plot to smuggle class A drugs into Europe.
"As part of that operation around 220 kilos of cocaine was seized at a location in the Alicante area.
"The Spanish authorities have also impounded property and bank accounts worth around five million euros.
"Our officers continue to assist in the investigation."
Related Internet Links
The BBC is not responsible for the content of external sites.