Hartlepool RNLI rescues seal-capsized kayaker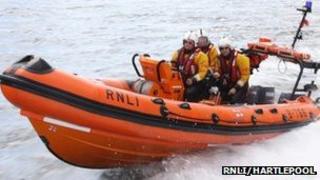 A kayaker had to be rescued by a lifeboat crew after he was pitched into the sea by a hungry seal.
The man was fishing in the waters off Hartlepool on Wednesday afternoon, and had a number of mackerel in a net over the side of his craft.
These were targeted by the seal, which bumped into the kayak, overturning it.
An off-duty policeman spotted him in difficulty in the water, and Hartlepool's RNLI inshore lifeboat recovered him from the water.
Mike Craddy, Hartlepool RNLI's operations manager, said: "A seal bumped into the kayak capsizing it and grabbed the net and fish for its tea.
"Volunteer crewmembers train regularly for incidents like this and are pleased the man has recovered and didn't need hospital treatment."