Police mounted section sponsorship deadline extended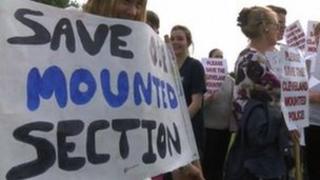 A group hoping to save Cleveland Police's mounted section have six more weeks to find the sponsorship money.
The force announced in June that it was to scrap five horses, two staff members and seven officers to save £88,000 a year.
Campaigners searching for sponsorship to fund the unit had a deadline that was due to expire on Thursday.
However, the force's police and crime commissioner, Barry Coppinger, agreed to extend the deadline for six weeks.
'Hardest' decision
Organiser Jane McGravey said: "We're very pleased we've got the opportunity to do something about it. We did think it was a foregone conclusion and the deadline would stay as it was.
"So it's great news we've got the extension although it is short, six weeks, but we are confident we can go forward with this."
Chief Constable Jacqui Cheer described the decision as "one of the hardest" she has had to make, but it was necessary to cut overall spending.
She later added the unit could only be saved by securing sponsorship.
The force has already said it will axe hundreds of officers in an effort to save an estimated £26m by 2014.