Theatre group 'very angry' over register office sale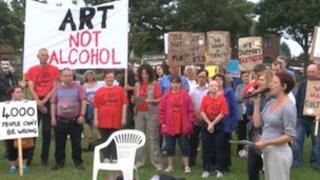 Campaigners have failed in an attempt to turn a Teesside register office into a community theatre.
About 150 protesters lobbied a meeting of Redcar and Cleveland Council, which has decided to sell the Guisborough office to a national pub chain.
Earthbeat Theatre Company manager Tony Galuidi said people were "very angry".
The council said it chose the most "economically advantageous offer" and the theatre proposal meant handing over the building for no financial return.
Cabinet member for corporate resources Norman Pickthall said: "Sufficient economic and social benefits are also needed to justify any investment, or lost income."
He said the benefits listed by the group were not sufficient to "outweigh" offers received from other bidders.
'Up in arms'
The council said "professional advice" suggested the site was not suitable for a theatre development and has offered to work with the theatre group to identify alternatives.
Earthbeat, which is made up of adults with learning disabilities, is based at Saltburn Theatre and has also performed at Middlesbrough Theatre, Darlington Civic Theatre and the Gala in Durham.
Mr Galuidi said: "People are already saying we can object on planning permission, on licensing permission and we can even try and blockade the pub chain when they come.
"People are up in arms. People are not going to take this sitting down. The fight is still on."
The council said it could not yet release the name of the pub chain because it was "commercially sensitive" information.