Warehouse worker Andrew Gowling scoops Lotto £500,000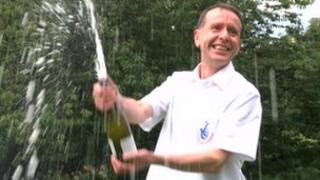 A warehouse worker is celebrating after getting two winning lines on the Lottery and scooping £500,000.
Andrew Gowling, 47, said he could not believe his eyes when he heard one line had won £10 and the other £500,000.
The 47-year-old warehouse worker of Darlington, County Durham, had just lost money at Redcar Racecourse when he realised he had won.
He now plans to go part-time, get a new car and go to Brazil next year for the World Cup.
Mr Gowling bought his winning ticket on Saturday at the Sainsbury's store on Victoria Road, Darlington.
He said: "It was the best hangover cure I've ever had, I checked the top line and I had all the numbers and the Thunderball number - half a million quid.
"I had to call my son Curtis down as I'd checked it five times and still couldn't believe it."
He added: "I think when I go to the bank and see all those noughts written down then it will hit me.
"Work has been really good to me and said I could go back, even part time. But I'm going to chill out for a couple of years
"I have always wanted to see the World Cup, so next year I am going to take my son to Brazil for four weeks."