Parachutist jumps from Middlesbrough tower block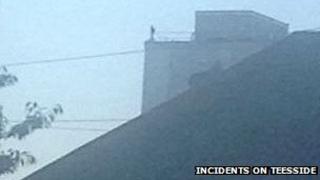 A man base jumped from a Middlesbrough tower block, sparking calls to the police.
The man was seen on top of Welton House, in Fulbeck Road shortly before 07:30 BST before jumping off and deploying a parachute.
The 43-year-old landed safely after the jump from the 15-storey residential block and was spoken to by police.
A Cleveland Police spokesman said: "We spoke to him to give him severe words of advice not to do it again."