Ingleby Barwick free school plan given go-ahead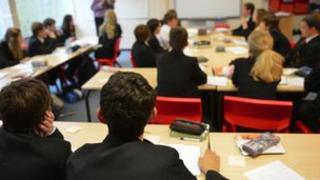 Plans to build a free school and new housing on Teesside have been approved by the government after Stockton Council refused planning permission.
In 2011, Education Secretary Michael Gove gave the go-ahead for initial plans to build a secondary school and 350 homes at Low Lane, Ingleby Barwick.
However, the council feared the housing could "infringe" on green wedge land.
Now, Communities Secretary Eric Pickles has overruled the decision following a public inquiry.
The inquiry concluded that the benefits of the proposal "significantly outweighed" the harm.
'Unjustified incursion'
Labour leader of Stockton Borough Council, Bob Cook, said "We're extremely disappointed that the government has over-ruled a local planning decision.
"We are concerned that the Secretary of State's decision today not only gives the go ahead to 350 new houses but opens up the possibility of a further 950 homes - 1,300 in total - on green wedge land.
"Stockton Borough Council's planning committee rejected this planning application because the proposed development represents an unjustified incursion into the Bassleton Beck valley green wedge and the applicant failed to provide adequate affordable housing provision and this remains our view."
The council said it believed the most "sensible and cost-effective" option was to provide more school places by extending the existing All Saints Academy.
The new school, which will cater for 750 pupils, will have to be built by the Ingleby Manor Foundation Trust, a resident and parent community group, once the necessary funding from the Department for Education has been secured.
Stockton South Conservative MP James Wharton, said: "This is brilliant news for Ingleby Barwick... I hope this important investment can be delivered in good time to benefit parents and pupils.
"I am so pleased for the parents groups and residents who have campaigned for years to achieve this milestone."
Ingleby Manor School, which will be state funded and independently run, is expected to open in September 2015.